Shipping & Delivery Questions
How does Reduced Printing ship packages?
Reduced Printing ships all packages via either FedEx or UPS. Our standard shipping level is Ground Shipping. Our shipping charges are based on rates provided to us by the carriers and they may vary from time to time.
Can I ship to a P.O. Box?
No. Because our carriers do not ship to a Post Office box, we cannot ship to a P.O. Box either. If you enter a P.O. Box as a shipping address, your order will ship to your default billing address.

How long does shipping take?
The estimated delivery time for any given shipment will vary according to the method of shipping you choose and/or by your location. Please note that because we use a third party shipping service, we are not able to guarantee a specific delivery date or time. If you have time sensitive materials, please make sure you allow sufficient time to receive your order.
Ground shipping typically takes from 1 to 6 business days depending on your distance from our facility in the northeast. Please refer to the shipping map below for full information. If you select a shipping service level other than Ground Service, the delivery date will correspond to the service level chosen.

Note that only special accelerated shipping services such as 3 Day Select, 2nd Air Day, Next Day Air, or some other special delivery level (or their equivalent) are guaranteed by the carrier within the time frames given. Ground Service is NOT guaranteed to be delivered within the estimated arrival time - it is only an estimate.
Business days in GROUND transit for packages leaving our Northeast facility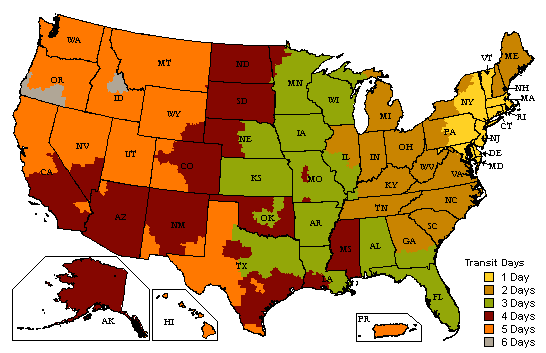 Will you break up boxes and ship to multiple locations?
We cannot split a single order for shipment to two different addresses. If you need the same product to go to more than one destination you must make a separate order for the quantity needed for each destination.
Will you combine shipments?
Our shipping process cannot accommodate shipping multiple print orders as part of one package. Each discrete product ordered will be shipped separately, will require a separate shipping charge, will have its own estimated shipping time, and may arrive on a different date to other products you have ordered.

Will you blind ship to my customers?
For our reseller customers, we made it a priority to make sure we are transparent in the printing process. We are able to drop ship your printing to any valid address you enter into your Address Book.
Can I use my own shipping account?
Unfortunately at this time, we do not offer that option.
Do you mark your boxes?
All orders will be packed in a plain box with no additional advertisements or promotions packed with your order.
Can I use my own special boxes?
Unfortunately we can not make such accommodations as it will cause an interruption to our very efficient production methods. Our standard double corrugated boxes will be used to ship your orders. We can not use your packaging under any circumstances.
Where is my tracking number?
On the day that your order ships we will send your tracking number to you via email, and it will be stored in your Order History on our website.

Why is the address book not accepting an address I'm trying to enter?
Our web site is equipped with an Address Verification system that checks all addresses for accuracy. This assures your package will arrive to the correct location.

If you are having difficulty entering an address, please make sure that the address is spelled, abbreviated and submitted with the correct suite, unit, street number, and zip code.